Soil survey (1964, revised in 1994), Andrews Experimental Forest
Shapefile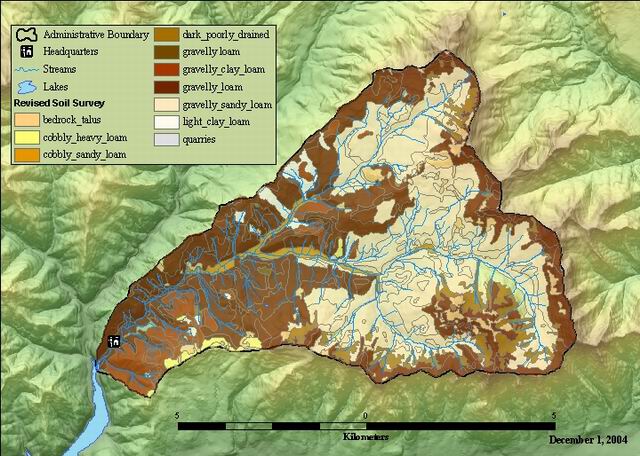 Tags
Western Cascades, Oregon, HJ Andrews Experimental Forest, soil classification, soil
Summary
To provide information on soil classification, topography and physical properties of soils in the H J Andrews Exp. Forest
Description
Soils map of the H J Andrews Exp Forest modified from 1964 soil survey. Joel Norgren and Ted Dyrness collected additional field data in 1993 and 1994. Joel Nordgen revised the 1964 soils polygon based on these additional data. Ken Vance-Borland revised the original GIS soils layer based on Joel's interpretation, elevation contours, and the stream network. Polygon attributes were not changed.
Credits
There are no credits for this item.
Use limitations
While substantial efforts are made to ensure the accuracy of data and documentation, complete accuracy of data sets cannot be guaranteed. All data are made available "as is". The Andrews LTER shall not be liable for damages resulting from any use or misinterpretation of data sets.
Extent

West

 
-122.261523
   

East

 
-122.100705

North

 
44.282002
   

South

 
44.197820
Maximum (zoomed in)

 
1:5,000

Minimum (zoomed out)

 
1:150,000,000