Point Cloud data (LAS format) from 2008 LiDAR, Andrews Experimental Forest
LAS file format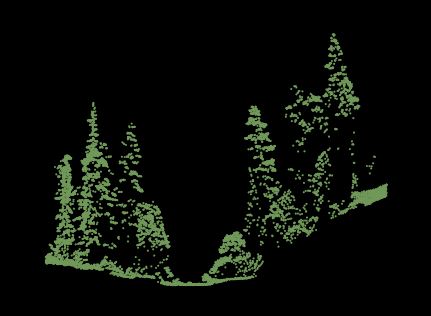 Tags
topography, HJ Andrews Experimental Forest, Landscape Ecology, Oregon, geology, Blue River Watershed, LiDAR, digital elevation model (DEM), Willamette Basin
Summary
The purpose of the data is to provide users with a very accurate view of the topography of the study area. The data are suitable for creating visualizations, deriving watershed boundaries, creating stream networks, identifying structures such as roads and water features, looking at individual trees or stands of vegetation, and for identifying landslides and geological features,
Description
Watershed Sciences, Inc. (WS) collected Light Detection and Ranging (LiDAR) data from the H. J. Andrews and the Willamette National Forest (NF) on August 10th and 11th 2008. Total area for this AOI is 17,705 acres. The total area of delivered LiDAR including 100 m buffer is 19,493 acres. The point cloud data are available by request, as the files are too large to download over a network.
Use limitations
While substantial efforts are made to ensure the accuracy of data and documentation, complete accuracy of data sets cannot be guaranteed. All data are made available "as is". The Andrews LTER shall not be liable for damages resulting from any use or misinterpretation of data sets.
Extent

West

 
-122.277460
   

East

 
-122.099580

North

 
44.282961
   

South

 
44.19679
Maximum (zoomed in)

 
1:5,000

Minimum (zoomed out)

 
1:50,000